In a relatively short period, the Strengthening of Vocational Education and Training for Food Security project in Myanmar has managed to set significant developments in motion. Project leader Arie de Jong of Aeres outlines how this project by Wageningen UR, the AOCs Lentiz and Wellant, MDF and Aeres has grown into a success story.
De Jong and his colleague Teus Korevaar travelled to Myanmar together in 2015 to take stock of the state of affairs in agricultural education. De Jong did this at the request of Geert Westenbrink, the then agricultural attaché. He focused particularly on agricultural secondary vocational education. Myanmar not only wants to be self-sufficient, but will eventually want to start exporting food. The education style De Jong encountered in Myanmar was rigid. Class times and curriculums were highly uniform. Local opportunities and limitations of soil types, climatic conditions or crops were not taken into consideration. The Ministry of Agriculture of Myanmar has a centralist structure and is also responsible for agricultural education. According to De Jong, this has the advantage that the lines of communication are short: 'You don't have to convince all levels separately.'. Although the courses do include fieldwork and practical lessons, group size is an obstacle to the acquisition of skills."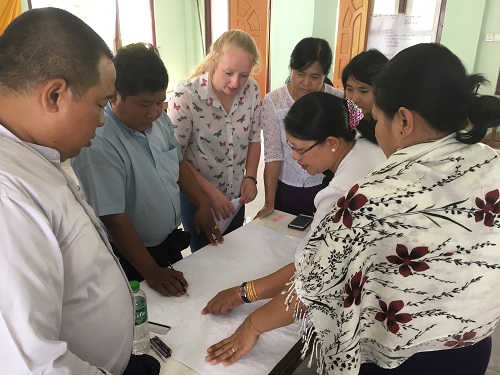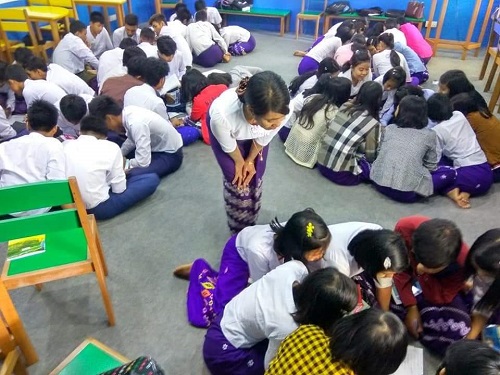 Two days of travel
In consultation with the Ministry in Myanmar, it was determined that the project assignment should focus on sectoral diversity and labour market-oriented and competency-based education. Aeres and the Myanmar Ministry of Agriculture, Irrigation and Animal Husbandry became jointly responsible. De Jong formed an Educational Support Team (EST), with people from the training centre of the Ministry of Agriculture of Myanmar, the Ministry itself and representatives of the pilot schools. Myanmar offered a surprising amount of room for divergent opinions, and there were great enthusiasm and commitment at all levels. The headmasters of all the schools were always present at meetings, even though for many this often meant two days of travelling. According to De Jong, these circumstances ensured that many changes could be implemented quickly in Myanmar's agricultural education, despite the traditional teaching material-oriented didactics. Aeres controls the process.
Renewed curriculum
Arie de Jong started in 2015 and as soon as November 2018, at the start of the Myanmar school year, a new curriculum was introduced for 1,200 first-year students. Initially for familiar subjects, for which the didactics were adapted. The schools now work with lesson plans and activating forms of work, and a new subject has been introduced: social skills, focused on entrepreneurship, the labour market, cooperation and collaborative learning. A start has been made with the introduction of the professional profiles of agricultural information officer and entrepreneur. De Jong: "If you manage to introduce this throughout Myanmar, you will eventually rebuild agricultural education from the ground up."
Different knowledge, same level
Regional specialisations are added to the curriculum in the second and third years. There will be three specialisations, so-called advanced technical modules (ATMs), and it is possible to choose per school from, for example, rice, potatoes, dairy or poultry.

Thinking differently
De Jong on the new set-up: 'Thinking in such terms is completely new in Myanmar. The students will no longer all have the same knowledge and skills, but they will all have the same level. ' The enthusiasm is so high that the other schools in the group from which the pilot schools were chosen also want to participate. They will come on board in November 2019. Arie de Jong is already looking ahead. At the top of his wish list is a teacher training course, starting with an annual program at the Agricultural University of Myanmar. However: "It must all fit in with the developments in the country."
Climate and environment
With respect to caring for the climate and the environment, the introduction of Climate Smart Agriculture as a separate module or as a cross-cutting theme is currently under consideration. After all, there is a danger that the pursuit of self-sufficiency and food export and care for the environment and sustainability will not get the attention they deserve. At Aeres' initiative, stakeholders with secondary vocational education projects from Myanmar are coming together this spring to discuss and coordinate topics such as these. The results can then be embedded in the project.
Contact us
In the meantime, Arie de Jong is trying to involve as many colleagues as possible in the project. "Myanmar is a country with great agricultural potential, where Dutch companies are active and with which Aeres also cooperates in other countries. This project contributes to the internationalisation of our educational offer. I am trying to offer opportunities to teachers and students, also from Lentiz and Wellant, to gain experience or do an internship." His call to students who are interested in an internship with a successful project is, therefore: 'get in touch'.